March 7, 2020 3:30PM
-
March 29, 2020 3:30PM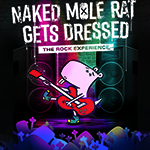 Naked Mole Rat Gets Dressed: The Rock Experience
Children's book author and artist Mo Willems (Knuffle Bunny, Elephant and Piggie's We Are In a Play) brings another loveable character to life in this exciting family musical. Grab your friends and watch as Wilbur, a clothes-loving mole rat with exceptional style, navigates the pressure to be just like everyone else. With tail-shaking tunes, empowering messages of individuality, and classic Mo Willems humor, this musical is sure to rock audiences of all ages.
Change event date
Choose from the list below and click the arrow to jump directly to another offering of this event.
Continue Shopping
Event details
Date
March 14, 2020 3:30PM
Title
Naked Mole Rat Gets Dressed: The Rock Experience
Notes
If purchasing 10+ tickets, please call our Group Sales Team at 404-733-4690 to receive a discounted group rate.
Choose your own seat