March 7, 2020
-
March 29, 2020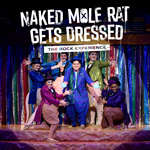 Naked Mole Rat Gets Dressed: The Rock Experience
Children's book author and artist Mo Willems (Knuffle Bunny, Elephant and Piggie's We Are In a Play) brings another loveable character to life in this exciting family musical. Grab your friends and watch as Wilbur, a clothes-loving mole rat with exceptional style, navigates the pressure to be just like everyone else. With tail-shaking tunes, empowering messages of individuality, and classic Mo Willems humor, this musical is sure to rock audiences of all ages.
Event details
Date
March 14, 2020
Title
Naked Mole Rat Gets Dressed: The Rock Experience VIDEO STREAM
This event is sold out; If you are purchasing an Acting Class or Camp please call 404-733-4700.
Otherwise, Seats may also be available for other performance dates.