November 16, 2019 8:00PM
-
December 24, 2019 2:30PM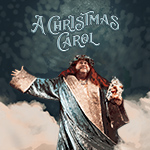 A Christmas Carol
Celebrate the holidays with the beloved Dickens classic in this Broadway-scale production with beautiful live music and an all-star Atlanta cast. On Christmas Eve, Ebenezer Scrooge, an old man well-known for his miserly ways, is visited by ghosts offering him a chance at a better future – his old partner Jacob Marley and the Ghosts of Christmas Past, Present, and Future – who teach him it is never too late to change. See the Alliance's 30th annual production of A Christmas Carol at its new home, The Coca-Cola Stage at Alliance Theatre.
Change event date
Choose from the list below and click the arrow to jump directly to another offering of this event.
Continue Shopping
Event details
Date
December 19, 2019 7:30PM
Title
A Christmas Carol
Notes
If purchasing 10+ tickets, please call our Group Sales Team at 404-733-4690 to receive a discounted group rate.
Choose your own seat