November 16, 2019 8:00PM
-
December 24, 2019 2:30PM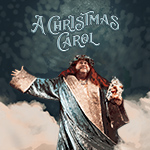 A Christmas Carol
Celebrate the holidays with the beloved Dickens classic in this Broadway-scale production with beautiful live music and an all-star Atlanta cast. On Christmas Eve, Ebenezer Scrooge, an old man well-known for his miserly ways, is visited by ghosts offering him a chance at a better future – his old partner Jacob Marley and the Ghosts of Christmas Past, Present, and Future – who teach him it is never too late to change. See the Alliance's 30th annual production of A Christmas Carol at its new home, The Coca-Cola Stage at Alliance Theatre.
Event details
Date
December 1, 2019 7:30PM
Title
A Christmas Carol
This event is sold out; If you are purchasing an Acting Class or Camp please call 404-733-4700.
Otherwise, Seats may also be available for other performance dates.